CALIFORNIA SURF LONGBOARD GUIDE: where to surf, the best surf spots, and what's on.

Ninefoot Studio is a huge longboard wave surf spot chaser! We love to get adventurous and explore new places on our surf trips, read the waves in unknown surf breaks, and learn about different surf communities worldwide.
We were lucky to meet Jamie, the local San Diego surfer, who shared the juiciest surf spots in Southern California and created this Surf Longboard Guide.
In this local California surf longboard guide, you will find out about the best waves, Jamie will introduce some of the legendary surf breaks and beaches and will suggest tips useful for every surfer visiting Southern California coats.
California Surf Culture
Surfing in Southern California is a luxury. The surf culture runs thick, after the Hawaiian's, like the legendary Duke Kahanamoku was seen surfing in California in 1913, everyone became obsessed with this new craze.
First surfing competitions were established along the California coast in the 1920s, and a surfing fever boomed when cars became more accessible. Surfers started to load their boards in their cars and drive up and down the southern California coast, chasing the biggest and best waves.
The surfing colonies of the first nomadic surfers continued to create along the south beaches well into the 1950s and 60s. Surfing became mainstream thru the movies, songs, and television shows that celebrated this new sport and lifestyle.
As surfing became more popular, California's surf culture was iconic. The Beach Boys' "Surfin' U.S.A." was a huge hit (released in 1963), and surf rock flourished. Surfers gave off this laid-back, cool vibe, and everyone was eating it up.
Flash forward to now, the California surfing culture runs thick. You can't miss a known surf brand logo in every direction you look.
Longboard Surf Spots in SoCal
As a longboarder from San Diego, after being constantly thrown over the falls and put through the rinse cycle, here are some of my favorite longboard surf spots in the Southern California coast (SoCal) that I have had the pleasure to surf and that have shaped me into the surfer I am today.
San Onofre, San Clemente 
"San O" is honestly probably one of the best, if not the most legendary, longboard surf breaks in SoCal. San O is the Waikiki of California.
It is easily spotted when driving down the highway, you will see the two concrete nuclear domes that everyone knows as the "boobs."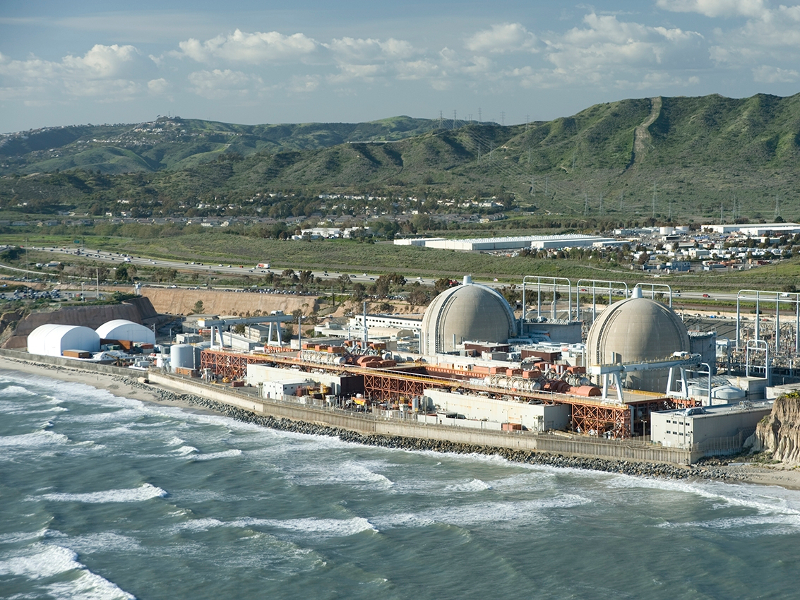 1 - San O Boobs | Source: NS Energy
At San O, you will get the best wave during the summer south swells producing a solid left. There are four pretty distinct surf zones from south to north:
Dog Patch: 
great surfing for beginners

slow wave

like "doho"

fun place to get creative with foils & SUPs
Old Man's:
50-yard paddle out

everyone from geezers to groms is out there

might see dogs on longboards 

party waves and fun waves

lack of surf etiquette 
Four Doors:
gets crowded on weekends and summers

mushes into a point, and hard to distinguish between the two

the Four Door changing station is a great indicator to figure out what point you're at
The Point:
fast lefts 

more advanced board riding

riders follow surf etiquette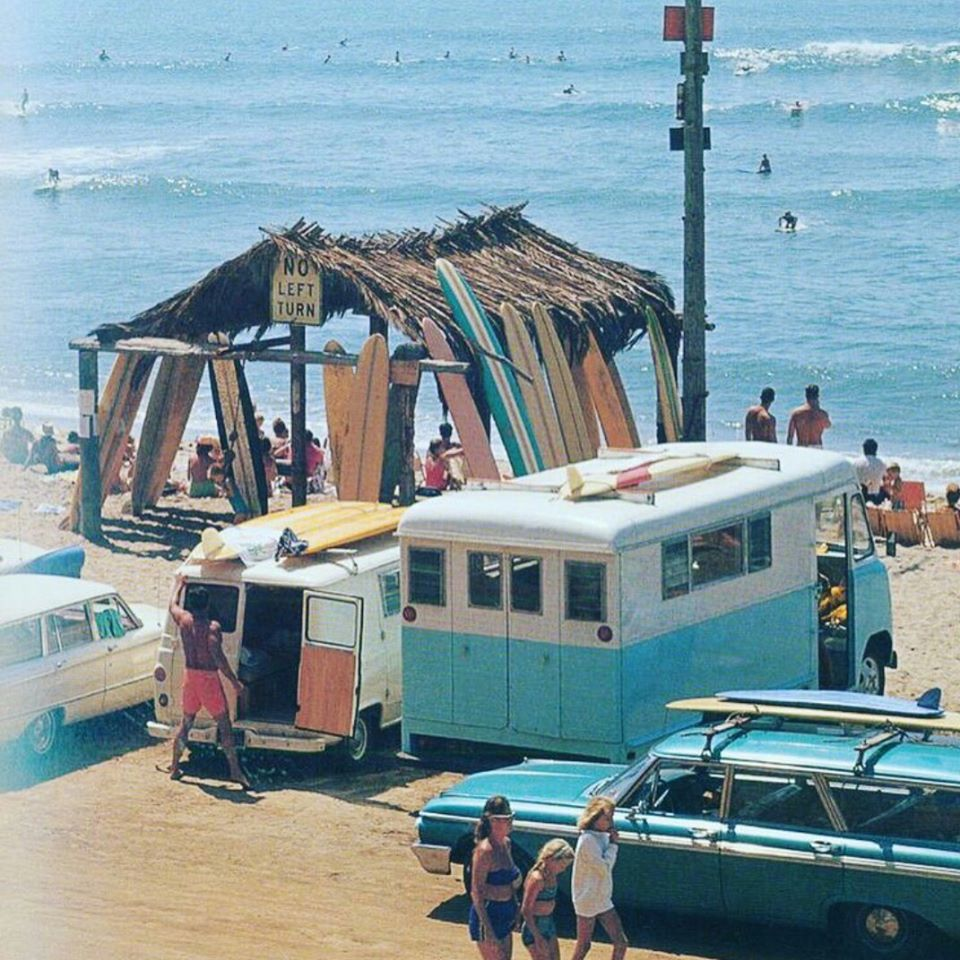 2 - Vintage Picture of San O | Source: California Department of Parks and Recreation
All in all, the vibe is unmatched, you get the oldies who have been surfing this break since the beginning of time, groms (beginner surfers), and even dogs out there, all enjoying their time chillin' in and out of the water.
You can pay to park in a dusty parking lot, so don't be alarmed if you think you've gone down the wrong road, you didn't. 
Warning: you might come across adolescent great white sharks, so keep an eye out.
Doheny, Dana Point
Boneyard at Doho is the perfect break if you're new to surfing. This area welcomes groms and has tables and grassy areas to accommodate families.
The water quality is not great, and it is a borderline zoo for foamies, so if you know what you are doing, I'd highly suggest going south to San O.
However, it is never a bad time here, everyone is happy just to be out in the water, and party waves are a regular occurrence.
If you get there and forget wax or any necessity, head over to Hobie Surf Shop. After you get out of the water, head to JC Beans across the PCH and grab a coffee and a breakfast burrito. This little surf city is a must-see. Also, a parking lot is right next to Doho, so parking is super easy.
Warning: poor water quality.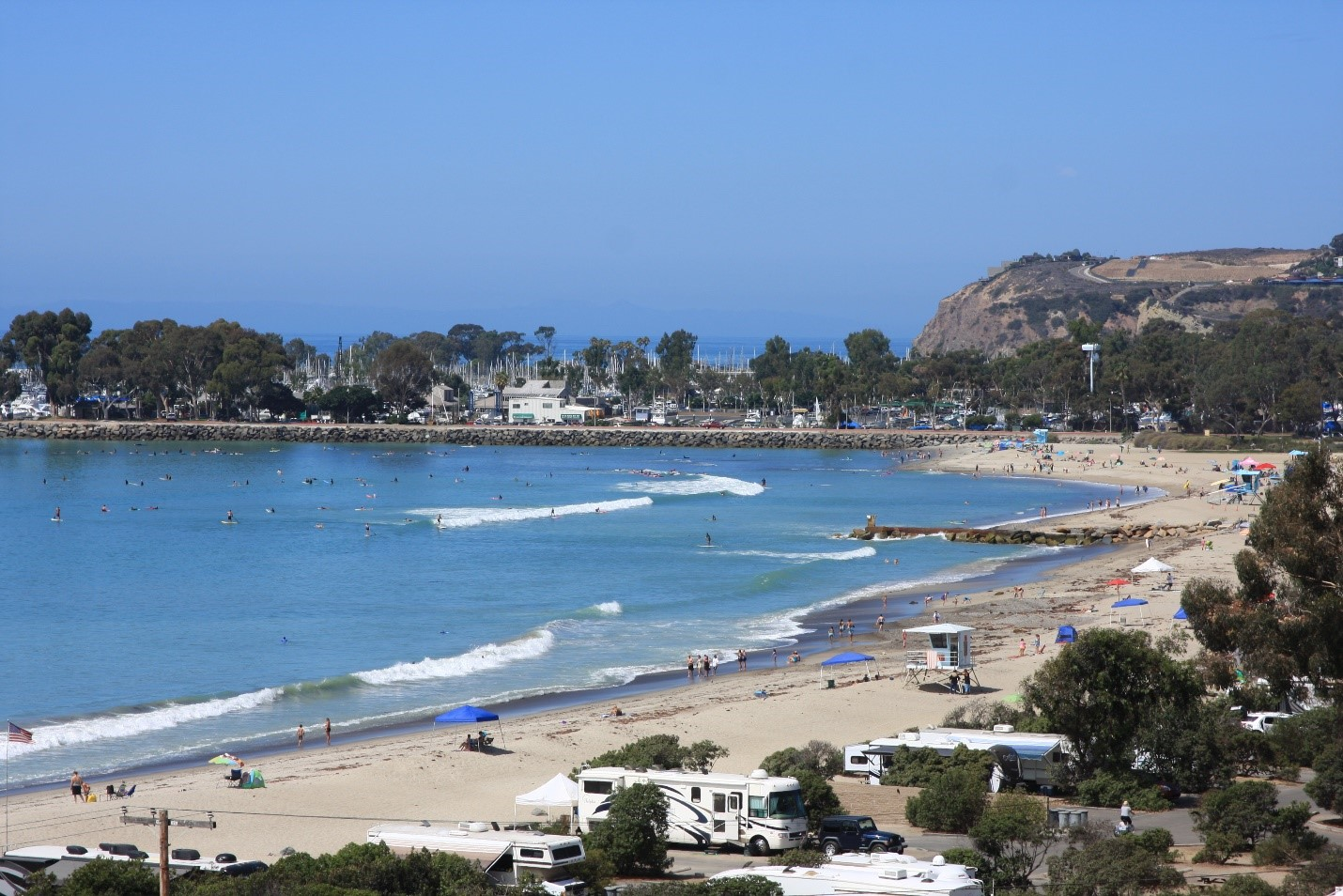 3 - View on Dana Point | Source: Metro Link
Surfrider Beach, Malibu
The surf in Malibu is downright legendary. As far as I can tell, the LA surf culture started in the '60s right here.
At Surfrider Beach of the three points, First Point is definitely the route to go for longboarding and the most constant break of the three. This break is right along the PCH (pacific coast highway) and draws in quite a crowd. Because of how known this break is, there are people in the line up from dusk to dawn (not to mention all of the tourists and beachgoers lined up taking photos waiting to watch the next caught wave).
Parking is easy, there is a big parking lot you can pay to park, & if full, street parking is easily accessible along PCH.
Warnings: Watch out for rocks and sea urchins.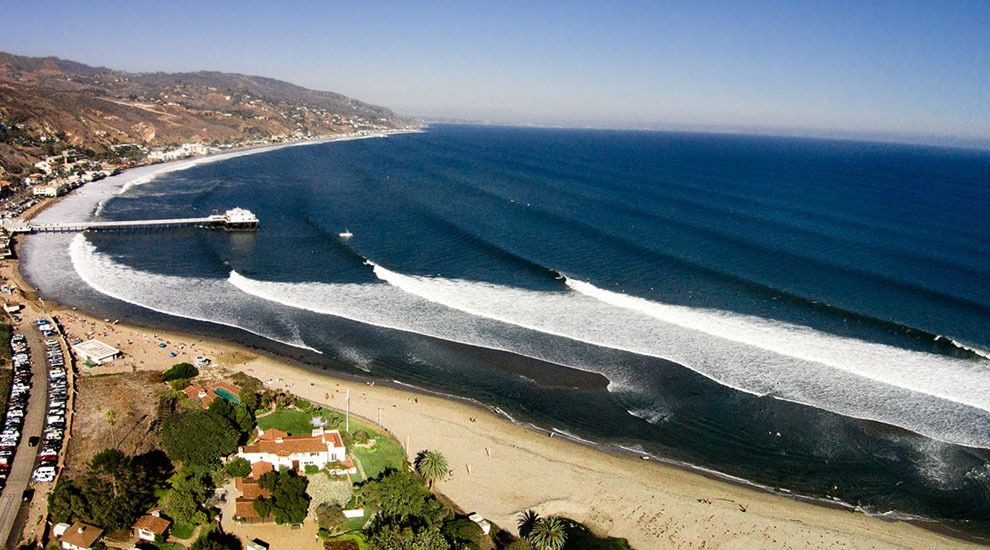 4 - Surfrider Beach in Malibu | Source: Pinterest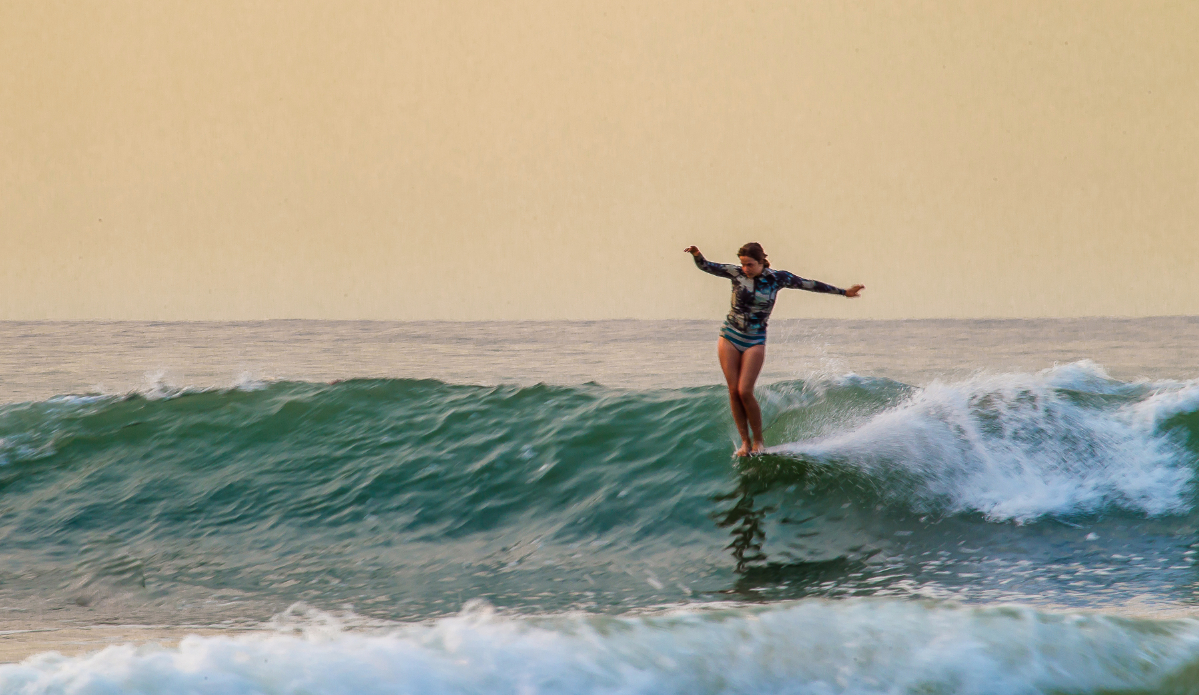 5 - Female Nose Rider at First Point | Source: Surf Sista
Fun fact: Baywatch was filmed south of Malibu at Will Rogers State Beach by tower 15, although the areas vary, and some scenes were also filmed at Long Beach and in Santa Monica.
San Elijo State Beach, Encinitas
San Elijo brings a super welcoming crowd to every skill level. This rocky reef break sets out smooth waves but does not always offer a consistent surf.  Of San Elijo, there are four main breaks:
Tippers: 
furthest south break 

next to the Cardiff Kook statue for reference 

less crowded, mellow longboard wave 
85's:
offers both left and rights

right below the main San Elijo parking lot and campground

good break for all skill levels 
Turtles:
bottom of the wood staircase from the north parking lot

comparable to 85's just accessible from the north parking lot of the San Elijo campground 
Pipes:
furthest north

most popular break at San Elijo for longboarding
Overall this surf point break offers good vibes from everyone on the water, even if you can come across the groms and very experienced surfers. Camping on the cliffs above the beach is also super fun.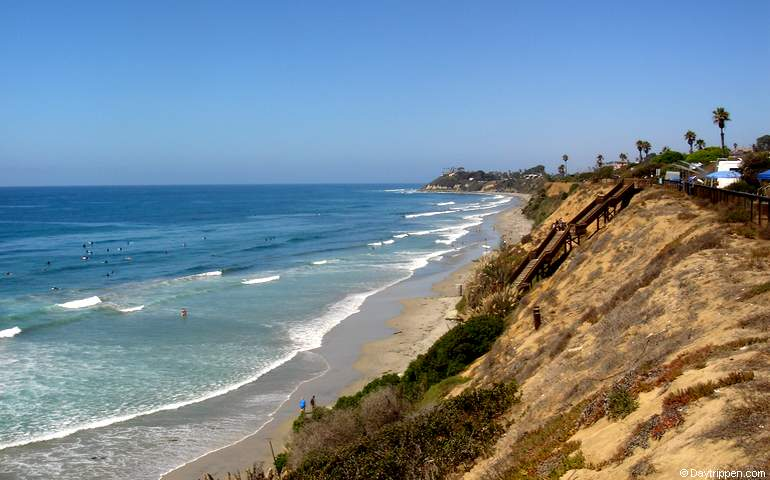 6 - San Elijo breaks | Source: Daytrippen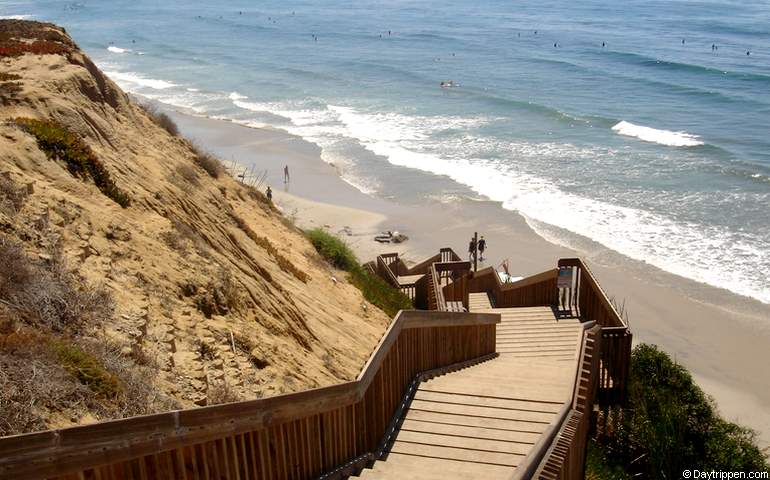 7 - San Elijo stairs to the beach | Source: Daytrippen
Tourmaline Surf Park, San Diego
Tourmaline aka Old Man's Tourmaline in San Diego (SD), is a favorite amongst my friends and I who live down in SD.
Luckily, because of the rocky beach, you won't see swimmers. The sandy part of the beach closer to the pier is more mellow for beginners, whereas the waves get a bit more challenging at the rocky part of the beach.
This wave is best November- February but works year around. However, it does get crowded, but I haven't met a mean person in the lineup, just know when it's your turn to paddle into a wave, and everyone will be super stoked to have you out there!
For parking, there is a parking lot, but it does get full pretty quickly, so I usually just park on the street.
Between Tourmaline and Scripps is a super cute surf shop called Hermosa Surf which is super cute, and also next to it is Bird Rock Surf Shop, another great surf shop!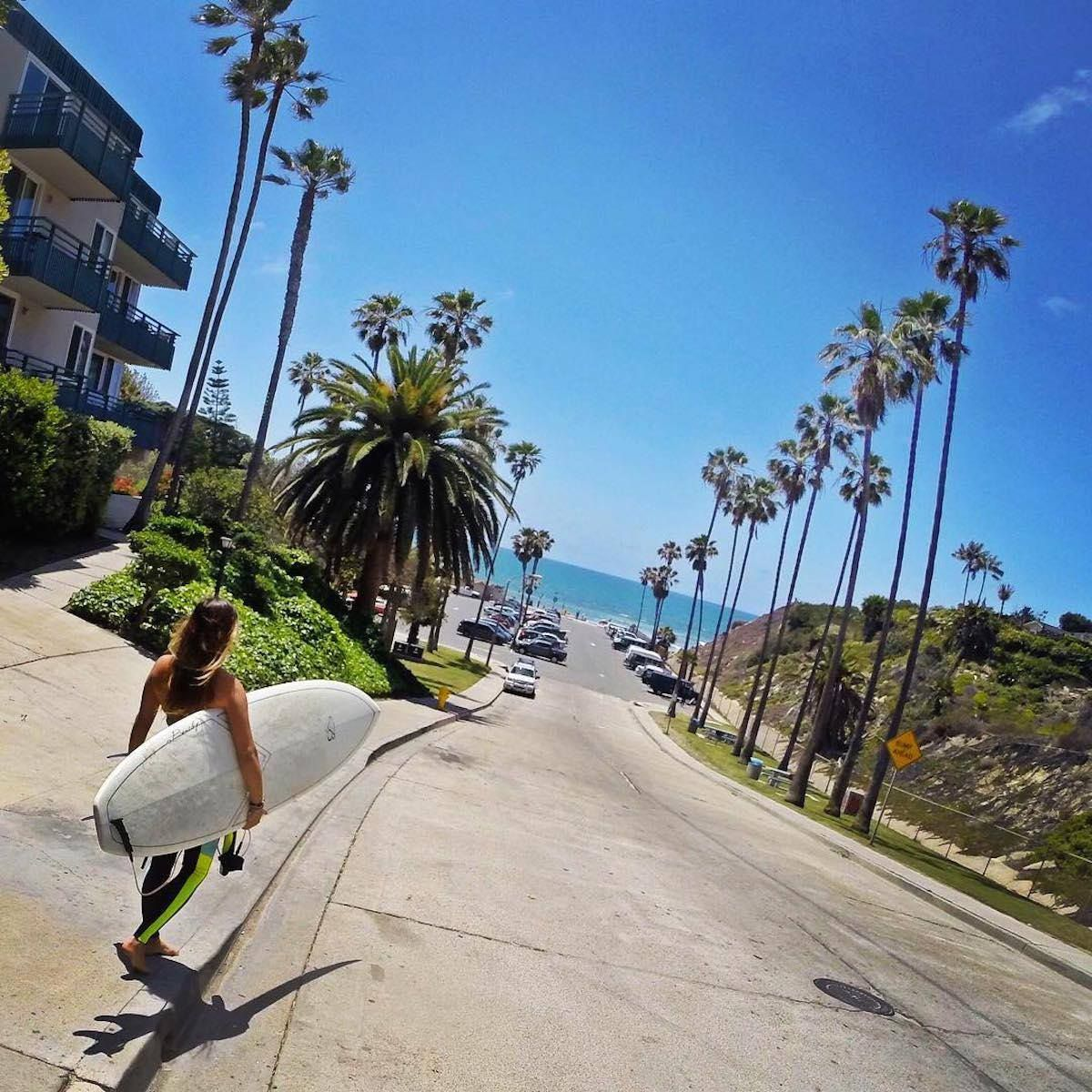 8 - Surfer heading down to the beach in SD, California | Source: Pinterest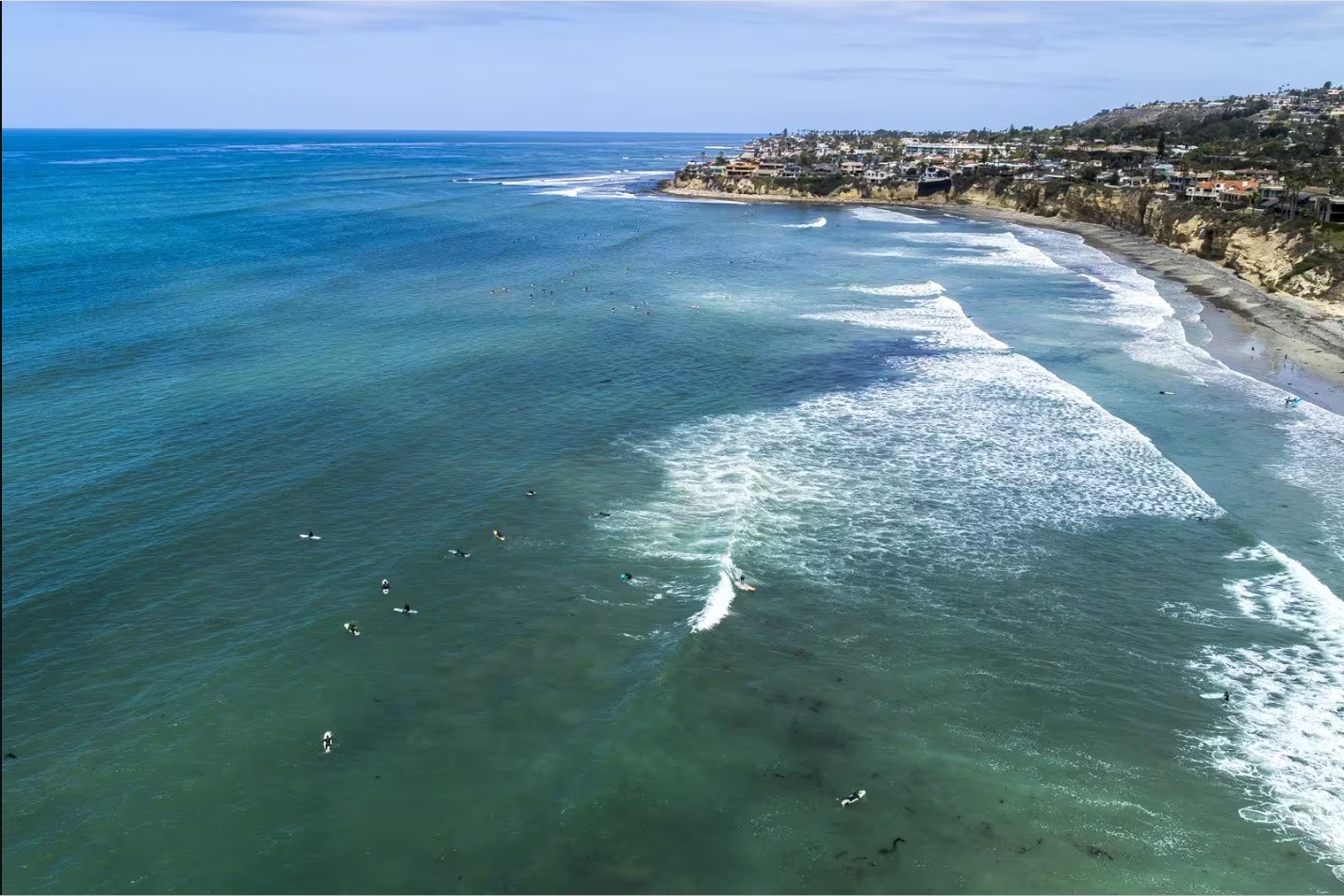 9 - Tourmaline Surf Park in SD county | Source: Hotels.com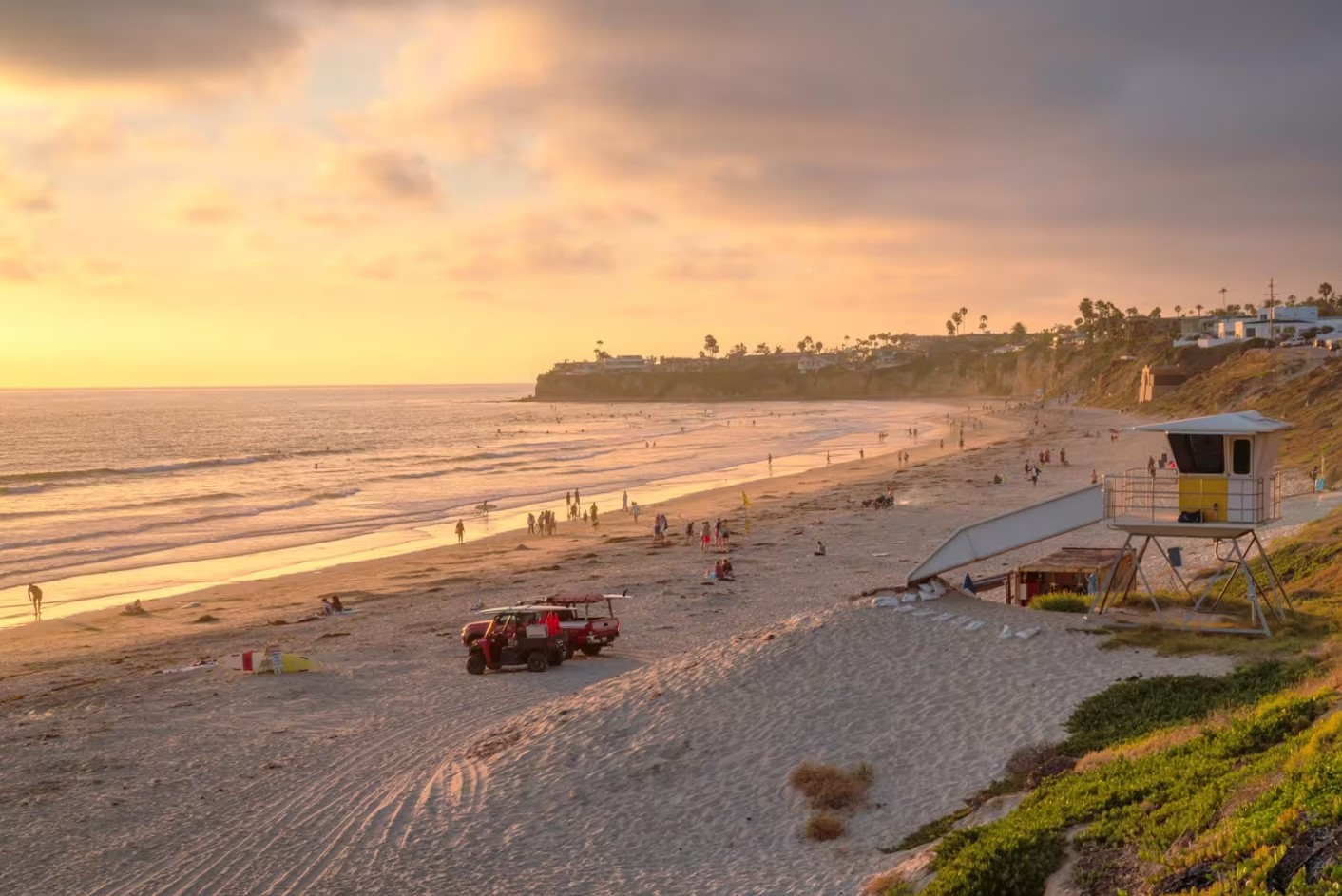 10 - View on the beach, Tourmaline Surf Park in SD | Source: Hotels.com
Warnings: - San Diego has strong rip currents - lots of stingrays, so make sure you do the string ray shuffle.
La Jolla Scripps Pier, San Diego
Scripps pier is great for longboarding, short boarding, fish, funboard, you name it. This break has something for all abilities and is a sandy seabed.
However, this break is often crowded because of how much it does have to offer from the surf lessons happening down south at La Jolla shores towards the cove.
Like Tourmaline, the wave is best November- February but works year around.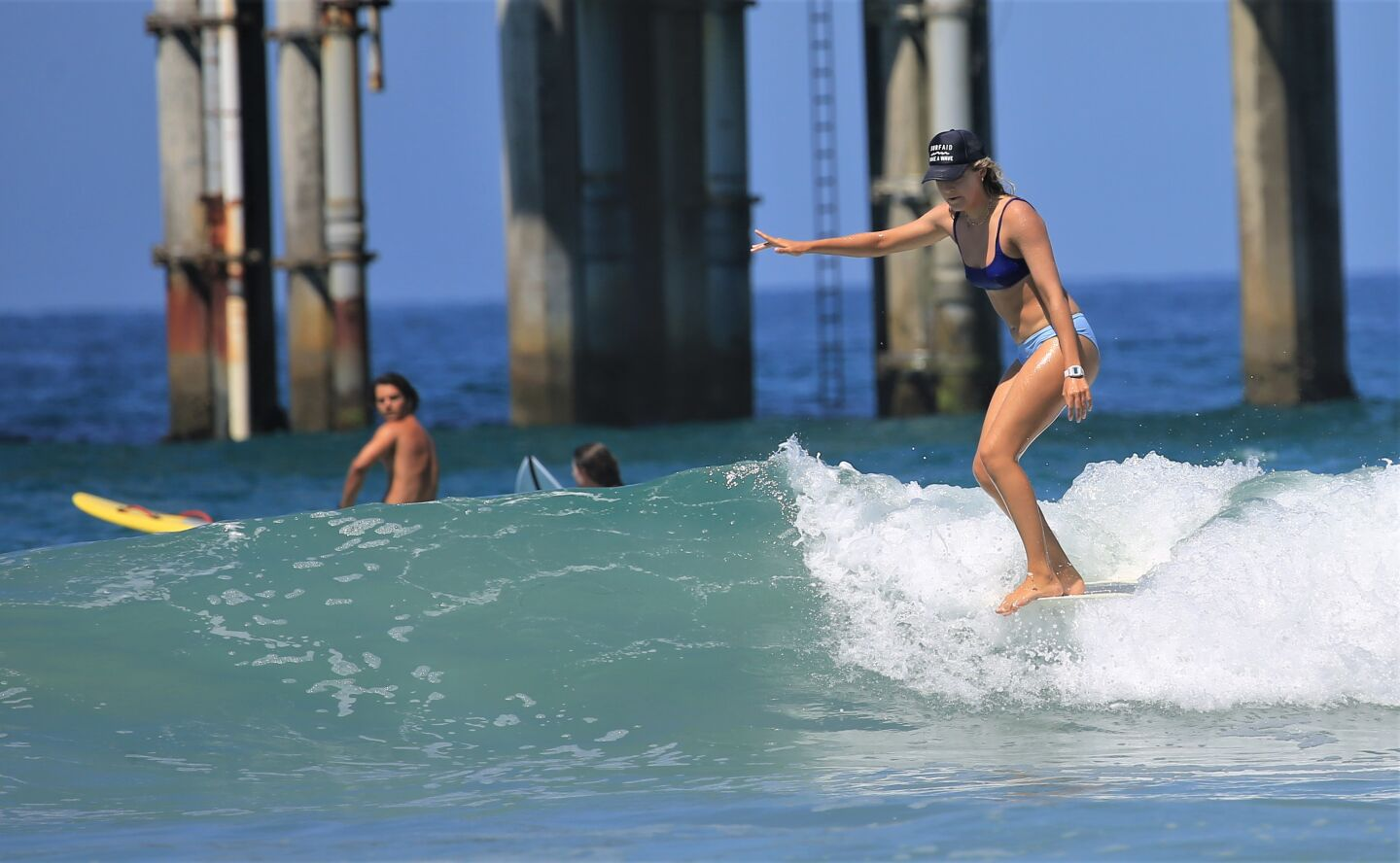 11 - Nose Rider at Scripps Pier  | Source: La Jolla Light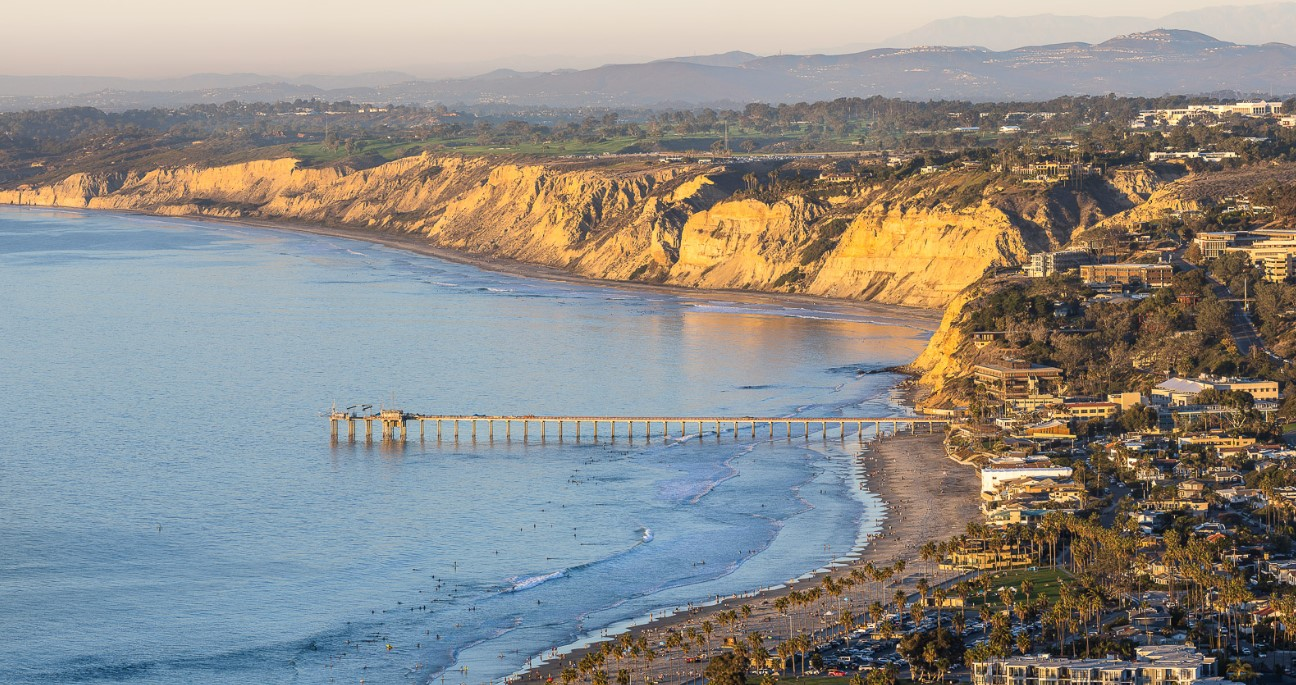 12 - Scripps Pier in La Jolla Sand Diego | Source: Ocean Light
After you finish your log sesh in Scripps I recommend you to go get tacos or a Cali burrito at Taco Stand. Yummy!
Warning: Stingrays are super common here, and after a good rain, I would stay out of the water for a bit, and it does get a bit competitive out there, so if you go out of turn and drop in on someone's wave, you will get chirped at. 
Also, at Scripps, you might see a leopard shark because the cove is a breeding ground, they are harmless, so even though they look scary, they won't hurt you.
You have to park on the streets in the nearby neighborhoods, there is a parking lot but very strict hours, and it is usually full, and you have to pay. Cars get towed often.
13 - Leopard sharks frolic off La Jolla Shores in early September
Pismo Beach
Pismo beach, I feel like, is often forgotten about when talking about southern California surf breaks. This surf break in SLO (San Luis Obispo) is rather constant and has something for everyone.
Wear a 4/3 wetsuit, as the water is cold. You might want to consider surf booties as well.
Northside
this break has a sandy bottom and a good amount of sandbars.

the most common and crowded break is on the Northside of the pier.

during high tides, you can get a strong left that is very consistent. Park on the cross streets, walk down the staircase, and you've made it.
Southside
The Southside of the pier is still a great wave for more intermediate and advanced surfers, but not as gnarly and intense as the north side. 

You can park at the free parking lot off Addie Street.
Addie Street Sandbar
is a fun little break that is great for beginners and all levels.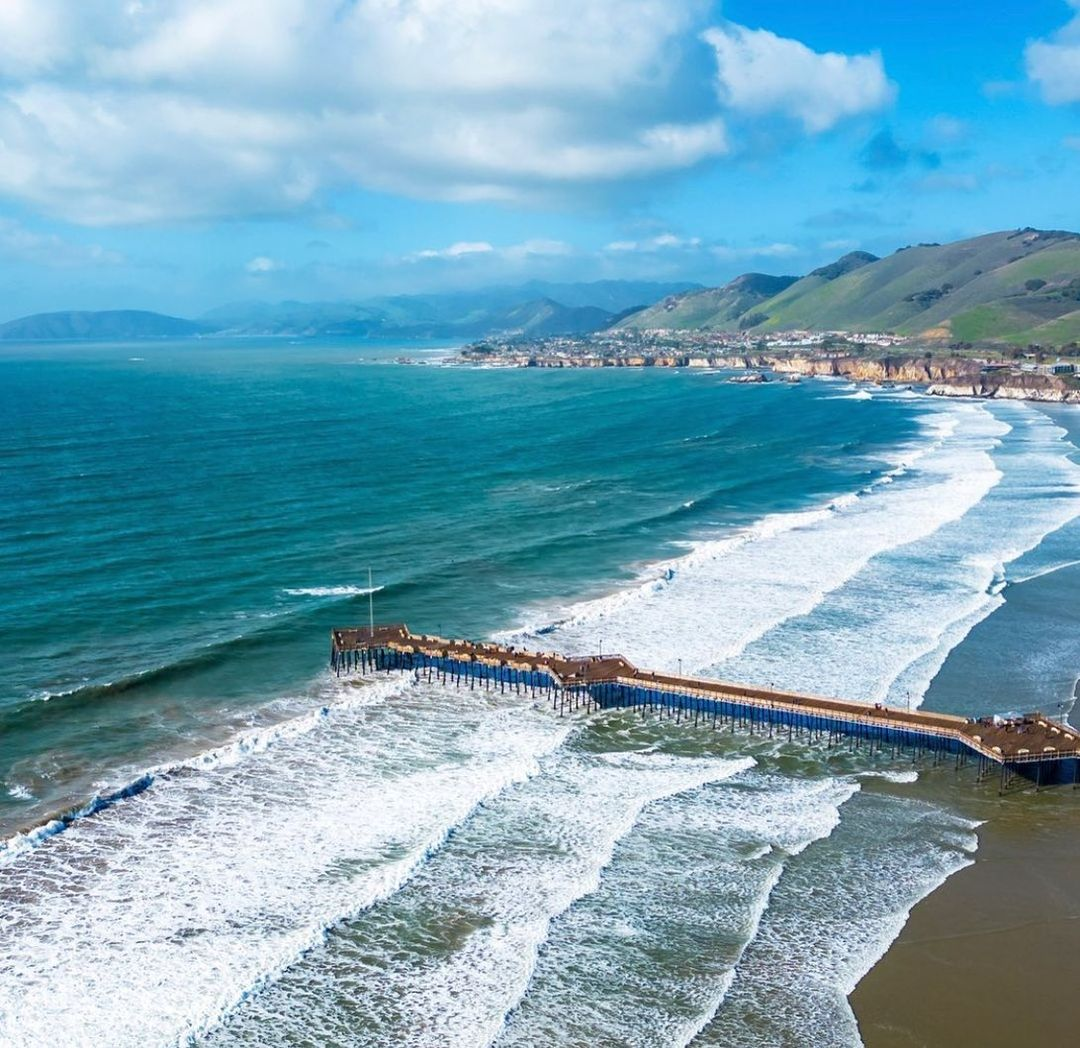 14 - Overlooking the beautiful Pismo Beach and its surf breaks | Source: Instagram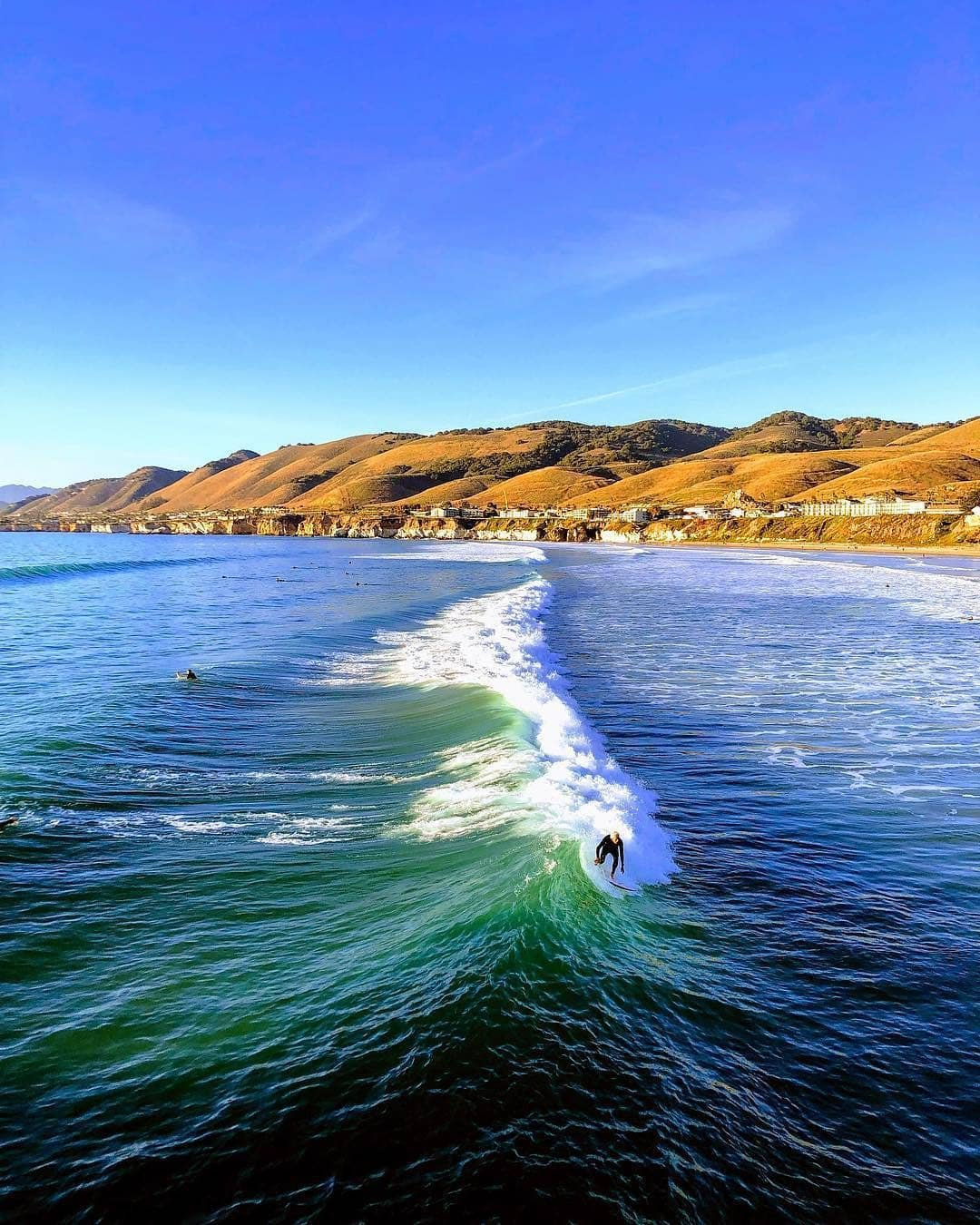 15 - Surf session in Pismo beach | Source: experiencepismobeach
Dive into local specialties like clam chowder, sand dabs, fresh crab, and more goodies that are sourced straight from our backyard of the Pacific Ocean. Splash, Hoagie's, Sea Venture & Giuseppe's are musts while in Pismo!
Warnings: Great Whites are common here from August- December.
Rincon Point, Santa Barbra
Rincon Point, aka "the queen of the coast," is located between Ventura and Santa Barbara 5 minutes south of Carpentaria. It's an absolutely perfect longboard wave for the regular surfer. Not too fast, not too slow.
16 - A photo from Rincon Point from 1967 | Source: Noozhawk
This break is good for beginners and more experienced surfers. There is a lot of controversy at this spot between longboards and shortboards. The good loggers surf when it's big and perfect for short boarding, and sometimes a few people will have an issue, but for the most part, it's relaxed and a really fun time surfing out there.
The best time to surf it is in the winter. The best months are usually December-January. There will be a few west swells sweeping down from Alaska and will light up the queen of the coast.
During the other months February-April there is a lot more wind swell, but there's always a possibility for another west swell. The wind swell is still fun to surf, although it's a little softer and sloppier.
In the summertime, we get swells from the south, and some waves will trickle in. The best conditions for surfing Rincon occur with the North offshore winds.
We recommend you watch the surf film "Spoons" for more on the surf history in Santa Barbara.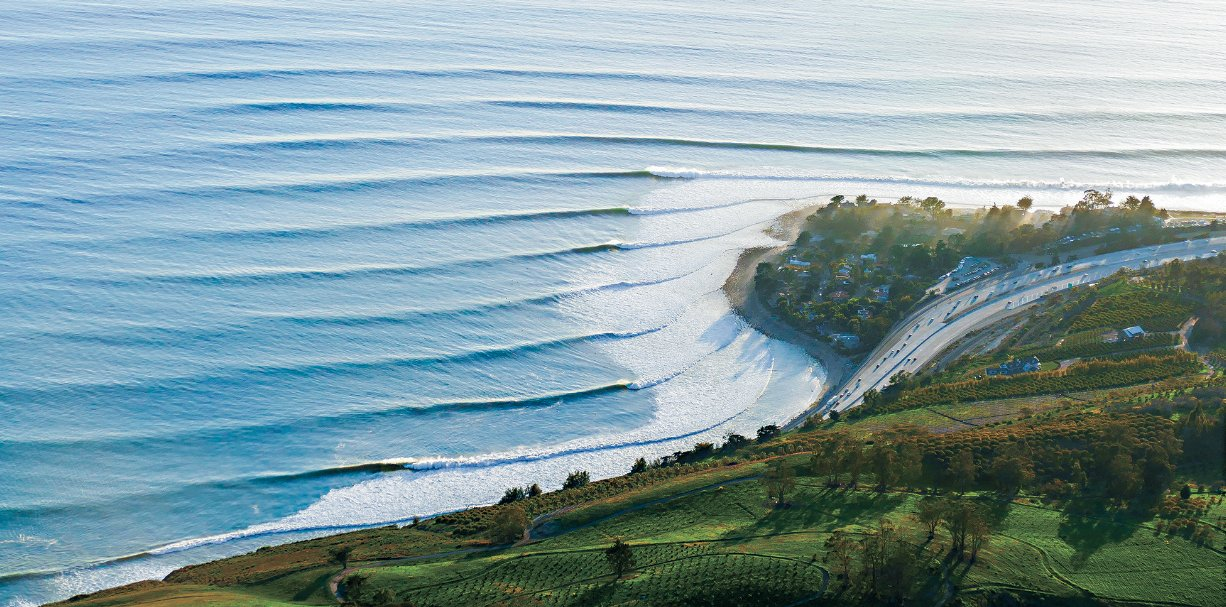 17 - Perfectly clean lines of waves in Rincon, Santa Barbara | Source: SURFER: Photo: Woodworth
Warnings: Sharks are known to be frequently spotted here. Be careful!
Also, a 3/2 wetsuit will be perfect year-round, you can wear a spring suit in the warmer summer months, but even then, a 3/2 is fine in the water.
---
In the end
Huntington Beach also has the international surf museum, and Huntington Beach is just north of Dana Point by 35-40 minutes. It's a super fun surf town, but it's known for short boarding. However, another iconic surf competition is at a break right next to San O called Trestles in San Clemente (just south of Doho).
There is an iconic surf competition I also go watch, the Vans US Open of Surfing at Huntington Beach or aka "surf city USA" but that's for short boarding.
Trestles is where they hold the Rip Curl WSL Finals, so it's a huge deal. Another short boarding comp but between HB Vans US open and Trestles, both are super fun to go watch with all the pros there.
Ultimately
Always wear mineral-based reef-safe sunscreen! 
Here is my current favorite: Surface: SPF45 ZINC OXIDE FACESTICK 1OZ. - TINTED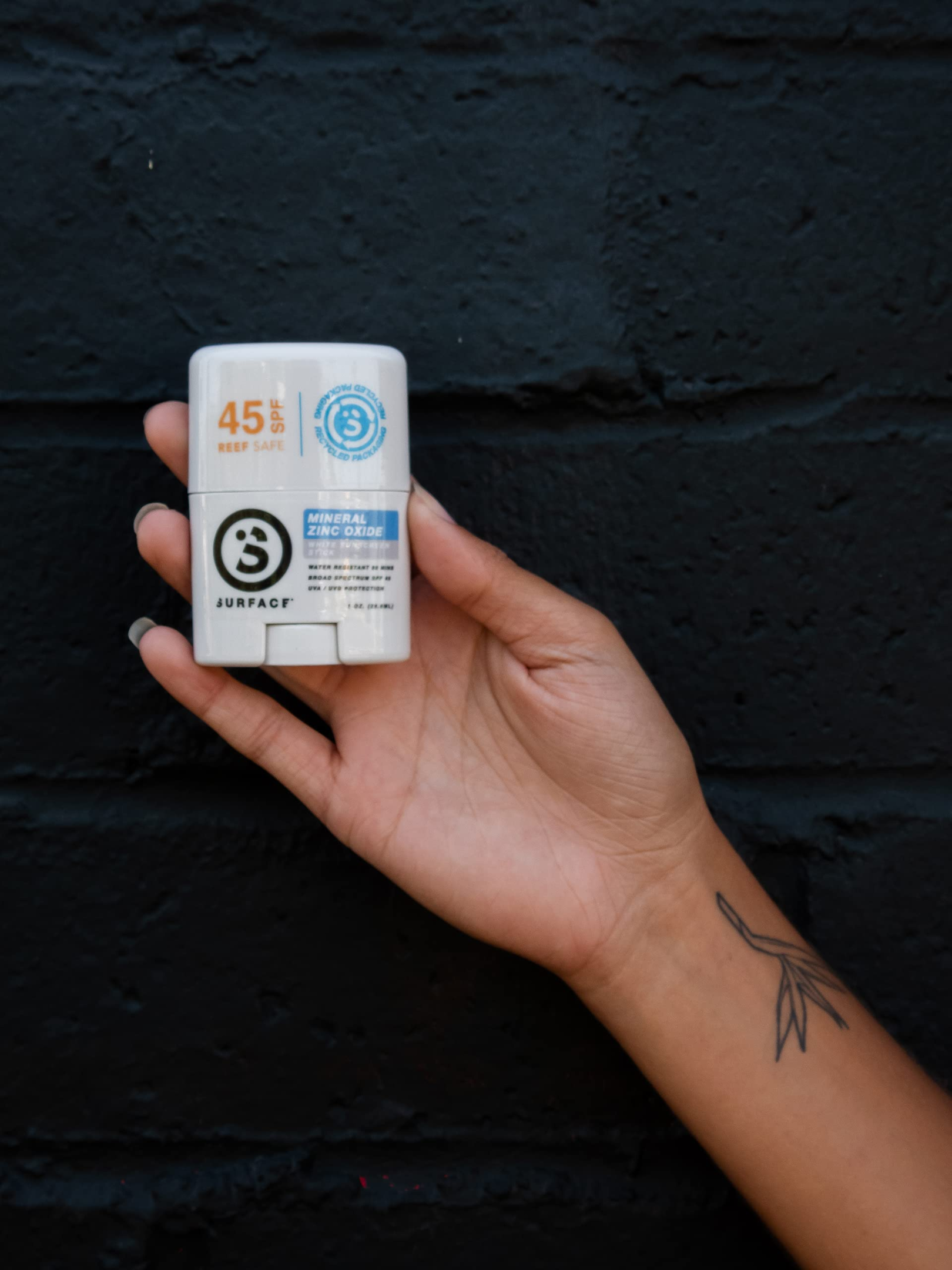 18 - Surface SPF45 Mineral Zinc Oxide Face Stick | Source: Surface
What to be aware of:
Stingrays are super common amongst all surfing spots in the southernmost breaks.

Sharks in more northern breaks during colder swells.

 
Overall, if you can make it down to surf on the Southern California coast, you will not regret it. There are many opportunities to try SO many different breaks, all of which hold their special qualities. It would be 30 more pages of this SoCal surf longboard guide to cover all the surf breaks.
Whether you take a day to go out alone or with friends, surfing California is always a great time. Get out there!
 _ _ _
written by Jamieson Wilson
edited by Monik Wei